During the checkout you can pay us in different ways. All payment options are equally safe. You choose a payment method when placing an order. For online payments we work together with our payment partner Mollie Payments.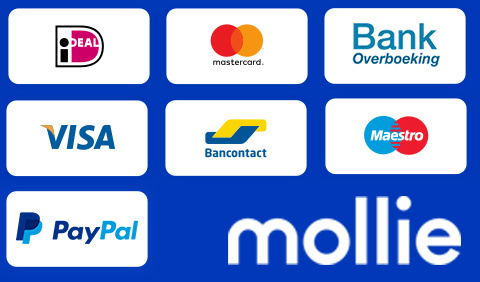 iDeal
Pay via your own trusted internet banking environment. You go through the same steps as you are used to with internet banking; the advantage is that the payment with all the details is already ready for you. Easy and according to the same (strict) security requirements of your bank. This payment service is available for customers of ABN AMRO, ASN Bank, ING, Knab, Rabobank, RegioBank, SNS Bank, Triodos Bank, Van Lanschot Bankiers, Knab and Bunq. Paying with iDEAL is free.

Credit Card
You can safely enter your credit card details from VISA and Mastercard via our secure SSL procedure and we will ensure proper processing together with your credit card organization. No one but yourself will see the card number or other information. Our payment provider Mollie Payments verifies for us, among other things, the validity of your card, card number and access rights of your credit card. This way your order will be confirmed immediately and we can ship your order as soon as possible. We charge a small fee for paying with credit cards.


Wire transfer or bank transfer
It is also possible to pay for your order by direct bank transfer or bank transfer. You can indicate this during checkout. After you have completed the order, you will receive an e-mail from our payment partner Mollie Payments with payment instructions. We will ship your order after we have received the payment.
Make sure that you correctly copy the unique payment reference from Mollie Payments. There are no costs associated with paying by bank transfer.


Pay on invoice or on account
Are you ordering for business? Then you can purchase your products from us on account. You can click on this payment method during checkout if you have entered a company name. We will send you an invoice after you place the order. We may require a deposit when you order from us for the first time.
Tip: if you order with your Experience Israel account, you do not have to fill in your company details every time. So easy. Feel free to contact us for the possibilities.

Bancontact
Bancontact, formerly known as Mister Cash, is the most popular online payment method in Belgium. Do you live in Belgium? Then it is of course also possible to pay via your own trusted internet banking environment. We do not charge extra costs for this payment method.