Israeli kosher grape juice
Kosher grape juice is one of the most popular drinks in Israel. These are made out of the best grapes in the country, grown in the most distinctive vineyards all over Israel. The story about Jewish grape juice makes it even more special.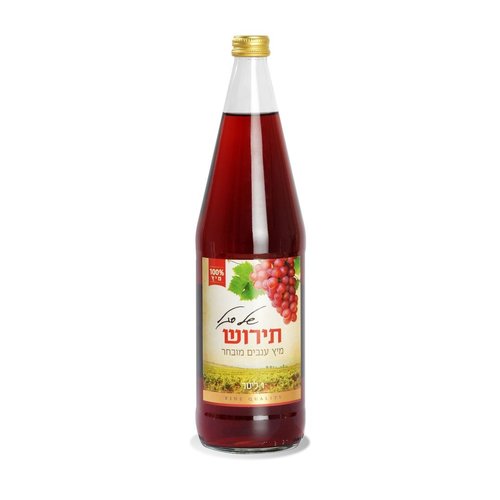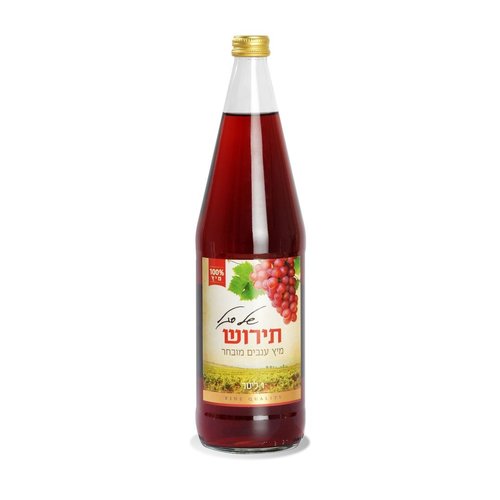 Bright red grape juice (100% juice) where you can recognize fresh forest fruits and currants in smell and taste.
Read more
Tirosh - Grape Juice
Bright red grape juice (100% juice) where you can recognize fresh forest fruits and currants in smell and taste.
Israeli kosher grape juice
Kosher grape juice
In Israel, people love their culinary culture. Kosher grape juice is a part of that. It is widely adored by a lot of habitants of the country. But why is that? First, because of how it tastes. It's a sweet beverage with a lot of flavor and texture. It is made from freshly pressed grapes, which adds to the taste.
When is Jewish grape juice used?
The kosher grape juice has an extra special meaning to Jewish people. Every Friday evening they start their Sabbath, which is introduced by the kiddush, a blessing. At that time, wine or grape juice will be blessed to start another series of sincere blessings. This is the Tirosh grape juice, which you can find online
Why is grape juice kosher?
Jewish people do love the kosher grape juice, but it has to be kosher in order for them to be allowed to drink it. That's because of the guidelines the Torah has stated. A certain amount of regulations decipher when a food or drink is kosher (safe to eat) of terefah (unsafe). Based on these products, you can see if certain ingredients are coming from those products. If it's a terefah product, those ingredients are not allowed. But, when it comes from a product that's kosher, their ingredients do can be used. The latter is what applies to Jewish grape juice. Because it's made from grapes, a kosher ingredient, the drink itself will also be kosher.
Experience Israel from home
It always has been Nati's dream to connect people to Israel. That's because he is born there and he grew up in the country and with Israel's culture on many different aspects as religion, people and the culinary aspect. His love for Israel is still as strong as always, even when he is now living in the Netherlands for six years. He's proud of his origin and wants to share his proud to you. And he thinks there's no better way than to do it the culinary way. That is why he gathered all the best Israeli products he could think of and put them together in this online shop. You can now experience Israel from your own home, with these magnificent products as Jewish kosher grape juice and many other Israeli foods, snacks, drinks, beauty products, household products and more. Feel free to ask Nati if you're in doubt which product to buy.